Carraro Planetary Axles
With over 80 years of experience, Carraro offers products for agriculture, construction and mining vehicles. Carraro axles are available for 2 and 4-wheel drive, with or without brakes and with or without independent suspensions.
As an authorized distributor for Carraro service and parts in Canada, The Gear Centre Off-Highway Division can acquire, prep and install whatever Carraro parts you need to keep your equipment in top running condition.
Carraro Construction Equipment Axles
Carraro has a complete range of planetary axles for construction machinery, including wheel and power loaders, telehandlers, excavators, compactors, and other special applications. Each unit is designed to offer high load capacities and to be used under even the most severe conditions.
At The Gear Centre Off-Highway Division, you can find Carraro axles in several configurations, like multiple ratios and width options to fit virtually any construction application.

Dana Off-Highway Axles
Dana Off-Highway axles are suitable for even the hardest jobs. Available for construction, material handling, mining, and forestry machines, these components can deliver outstanding performance while ensuring exceptional durability.
Spicer OE axles, axle components and reman units offer load ratings from 1,200 to 140,000 lbs.
As an authorized distributor and service centre in Canada for Dana Spicer Off-Highway Systems, The Gear Centre Off-Highway Division works only with genuine Dana parts and components, providing remanufactured units that meet or exceed strict OEM requirements.
Dana Spicer Material Handling and Mining Equipment Axles
Dana offers a broad selection of Spicer axles for material handling and mining vehicles with load ratings up to 65,500 kg (144,400 lbs). Dana's axles are designed with Spicer Smart Suite technology, an integrated system that gathers and analyzes data from the drivetrain to enhance productivity, improve safety and reduce operational costs.
Dana Spicer axles are available to fit mining trucks, mining load haul dumpers, drill carriers, teleboom handlers and many other applications.

ZF Planetary Axles
The Gear Centre Off-Highway Division is a ZF Service Partner for all of your ZF on-highway and off-highway applications. We stock a large inventory of ZF planetary axles including steering and rigid axles, that can handle even the most extreme levels of stress. Capable to work on high weights and rough terrains, ZF axles are used mainly in transit, construction, and agricultural applications.
All our components are remanufactured under rigorous ZF quality standards and are backed by the same warranty as factory units.
ZF Construction Equipment Axle
ZF is a leader when it comes to construction machinery technology. Any of ZF MULTITRAC and MULTISTEER series of axles can be integrated like a modular kit into almost any application, resulting in an economical and performance-optimized solution.
With rigid and steering options, ZF axles are both strong and lightweight and can be adaptable to fit most configurations.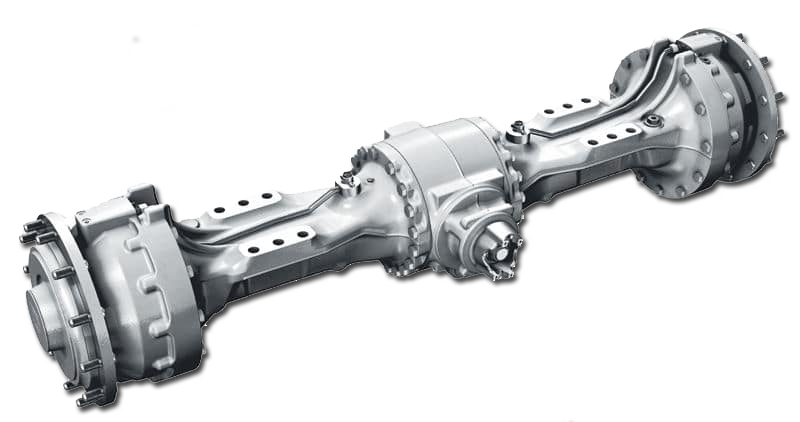 AxleTech Planetary Axles
The Gear Centre Off-Highway Division is an authorized distributor for AxleTech service and parts in Canada.
AxleTech's planetary axles are a great fit for a wide range of applications, and can handle any heavy load combination.
For off-highway applications, AxleTech offers rigid, tandem, tridem and steer axles, with different gear ratios and axle capacities up to 245,000 pounds. Their axles feature optional traction and torque management devices, permanently lubricated steering axle shafts and ball stud tie rod assemblies for low maintenance and dependability.

Funk Planetary Axles
As an authorized distributor and service dealer for Funk, we stock remanufactured inboard planetary axles commonly found in forestry, motor graders and some agricultural equipment.
The Funk TeamMate II family of axles are non-steering and designed specifically for high torque, low-speed applications. They offer a wide range of standard reduction ratios and their design allows thousands of configurations, making it easy to match any powertrain components.
All Funk axles are remanufactured by our factory trained technicians under rigorous quality control standards and come with the same warranty as offered by the manufacturer.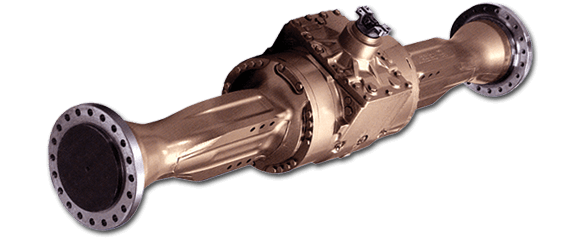 Kessler Planetary Axles
The Gear Centre Off-Highway Division can supply Kessler steering and rigid axles for vehicles such as cranes, container handlers and underground mining loaders. As a Kessler spare parts dealer, we buy directly from the Kessler factory in Germany resulting in better pricing, quicker lead times and improved service delivery to our customers.
Kessler axles have capacities ranging from 8 to 200 metric tons and are available with different differentials and brake options.

MAN Planetary Axles
MAN is known for providing light weight components combined with strength and durability, ensuring your vehicle runs smoothly yet efficiently. MAN planetary axles can be single driven or drive-through axles for tandem-axle assemblies.
At The Gear Centre Off-Highway Division, you can find an extensive inventory of MAN components commonly found in construction site vehicles, excavators and road sweepers.
Fabco R. Cushman Axles
At The Gear Centre Off-Highway Division, you can acquire Fabco steer and rigid axles for several industrial applications. Fabco axles come with a removable third member for ease of service, full floating wheel hubs, and brakes.
Being a Fabco authorized distributor, The Gear Centre Off-Highway Division can provide parts solutions for your specific vehicle application.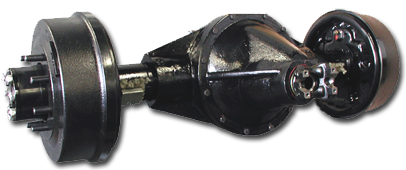 Sisu Planetary Axles
Sisu Axles specializes in planetary reduction axles, with a wide range of drive and non-drive front axles and single and multi-axle rear axles for heavy applications such as oil fields, heavy haul trucks, dump trucks, mixers, construction vehicles, powered trailers, mobile oil rigs and wood processing.
If you need help finding the best option for your heavy machinery, give The Gear Centre Off-Highway Division a call. Our specialized staff will be glad to provide the best solution available for your needs. If the component you need is not on our shelves, we have the ability to check inventory at the factories overseas and expedite the shipment of the unit.