ZF Transmissions
ZF Transmissions lead the industry in innovation and automation. As a Service Partner for ZF Transmissions and ZF Off-Highway components, The Gear Centre Off-Highway Division carry one of the largest inventories of new and remanufactured powershift, hydrostatic, automatic and automated ZF transmissions in North America.
ZF units for on and off-highway applications, such as transit busses, motor coaches, construction, material handling vehicles and agricultural, are readily available at our locations across Canada.
Dana Off-Highway Transmissions
As an authorized distributor and exclusive service centre for Dana Off-Highway Systems in Canada, The Gear Centre Off-Highway Division stocks the largest inventory of genuine Spicer Off-Highway units and parts in the country.
We offer a wide range of Dana Spicer transmission series, each designed with specific features and options that will fit any application, from smaller-powered equipment to severe heavy-duty machinery.
All remanufactured transmissions are dynotested under load conditions to ensure a long and productive working life.
Dana Spicer Transmissions are available in three configurations: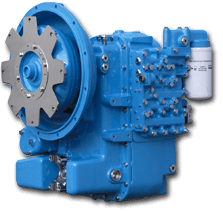 HR Model
The HR model is an integral transmission and converter assembly mounted directly to the engine. As a single compact package, it minimizes external piping and eliminates a drive shaft.
MHR Model
The MHR model is an integral transmission and converter assembly mounted remotely from the engine. This assembly allows for installation flexibility while minimizing external piping.
R Model
The R model is a remote-mounted transmission with an engine-mounted converter. This allows for flexibility of the transmission installation.
Dana Spicer TE Series
The new Dana Spicer TE transmissions are electronically controlled transmissions, designed with the CAN-BUS interface and up to 8-speed full powershift. These state-of-the-art units are specifically engineered to improve reliability and efficiency of your application, offering a smooth operation and simplified vehicle control.
The TE family of transmissions is available for material handling, underground mining, rough terrain cranes and construction applications.
Funk Transmissions
Funk powershift and hydrostatic transmissions combine a robust design with a reliable and cutting-edge technology, providing durable and high-quality performance equipment.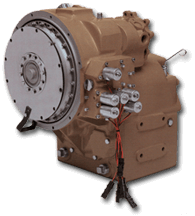 At The Gear Centre Off-Highway Division, we handle all models of Funk powershift transmissions ranging from 125 to 225 HP, up to 11-speed forward, 4-speed reverse and a full range of SAE mounting options. Powershift transmissions are available in both torque converter and direct-drive options.
We also carry hydrostatic (HMD) transmissions, available in 2, 3 and 4-speed models.
Funk transmissions cover applications in agriculture, construction, forestry, mining, aircraft ground support, railroad maintenance and other industries.
When you need Funk transmissions in a hurry, call us. The Gear Centre Off-Highway Division is an authorized distributor and service dealer for Funk components and can immediately ship any component you need.
Carraro Transmissions
Carraro Group is a leading brand when it comes to high efficient power transmissions. Carraro offers a wide range of mechanical, semi-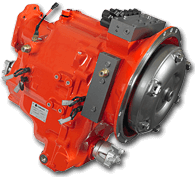 automatic, automatic, hydrostatic and hydraulic transmissions that can fit in agriculture and construction equipment, such as tractors, wheel excavators, backhoe loaders and soil compactors.
Carraro transmissions are available with up to 6-speed forward, 3 and 4-speed reverse and with different ratio options.
As an authorized distributor for Carraro in Canada, The Gear Centre Off-Highway Division can provide and install any Carraro parts and units you require to keep your equipment in top running condition.
Allison Transmissions
Allison has over 70 years of expertise designing, building and remanufacturing transmissions for countless applications, from mining to construction vehicles.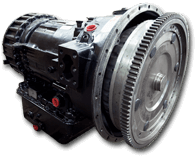 Allison fully automatic transmissions are built to last and combine intelligence and strength, resulting in faster acceleration and better performance. At The Gear Centre Off-Highway Division, you can count on our highly trained staff to repair and replace your Allison transmission, making sure it is as good as new.
CVT Corp Transmissions
CVT Corp mechanical transmissions are known in the market for its high engine optimization, great efficiency and infinite ratio configurations, resulting in significant fuel economy.
As an authorized service centre for CVT Corp, The Gear Centre Off-Highway Division can provide service and warranty activities for all off-highway CVT Corp products, as well as the complete catalogue for CVT Corp transmissions.